Recently I've been contacted by a number of different students wanting to interview me on my practice as it relates to feminism, writing, and fashion. It's a real pleasure to answer their questions (not to mention immensely flattering!), and it wasn't very long ago at all that I was bothering artists Joetta Maue and Iviva Olenick with a plethora of nosy questions for my own projects.
This interview was with a fashion journalism student who is creating a literary magazine which focuses on the marriage between poetry and fashion. I'm very excited to see the finished publication.
What came first - your love for writing or your love for sewing?
Writing came first for me. I struggled with literacy at school, but after receiving my first "proper book" (with chapters!), Horse Pie by Dick King Smith, in my stocking, one Christmas when I was seven or eight, it was like turning on a tap; the writing just poured out of me.
When did you start doing each? Why?
With the writing, the more I put in, (in the form of novels, poetry, non-fiction, plays) the more continued to pour out of me; this continued from the Horse Pie incident and hasn't really stopped, although my writing is a lot more pared down and concise now, as it often has to be embroidered, and embroidery is a very time-consuming medium! Aside from GCSE Textiles, when I embroidered a dress I'd hand printed with unfurling fern designs, I began embroidering in earnest after a very debilitating period of mental illness three years ago, as both an occupation and a form of therapy; I found the meditative, repetitive process soothing; perhaps I was stitching my ego back together again. Occupational or art therapy, if you will!
Are there any themes (in your writing and sewing) that you constantly use in your work?
As the above may hint at, I'm particularly concerned with public (mis?)conceptions of mental illness, notions of romance (and romantic notions), pop fem(me)inism, flora and fauna, the tortured artist cliche, sickness and recovery, the English national psyche, and art which is soft, twee, delicate or "girly" as a foil to darker subtexts.
Where do you get your inspiration from?
The online embroidery and feminist art communities are a constant source of inspiration and support, and I am very grateful to them, and to the web for making them so accessible. I try to take in as many exhibitions as financially possible, and, as it did in my formative years, my reading material continues to inspire me in wonderful ways. Being in nature is, in my opinion, also really important for the creative process, and helps me breathe.
What's your creative process like? I.e. Do you find yourself writing first and then applying that to your stitch work?
The seed of an idea for an embroidery often begins as a scribble in a notebook, or, more often than not, as a note saved in my phone! There's always rather a lot of writing and planning done before I "commit to cloth". Documentation and reflection is a very important part of my creative process, and I do this by blogging over at
http://poesiegrenadine.blogspot.co.uk
What is the significance of words on clothes/accessories for everyone to read?
Words on clothing will always make a statement about the reader to passersby or the general public. Why else do people buy branded clothing than to broadcast their affluence and sophistication to the world? Similarly, my brooches convey pride in oneself and allegiance to a feminist (or femme) cause; a pride in one's womanhood.
So far, which item that you've sewn has been your personal favourite? Why?
It's very difficult to pick an absolute favourite embroidery I've sewn; of the embroidered accessories I've created, my "
Thunder Thighs Are Go
" heart shaped brooch, with its play on the
Thunderbirds
catchphrase and body positivity, has proved
a firm favourite with the Tumblr crowd
and is a favourite of mine too (I may have to make myself one to keep!). I'm also rather fond of my
Stitch Witches rosettes
, created for my collaborative project
Stitch Witches
, which is soon to culminate in a zine celebrating contemporary and subversive stitch craft, curated and created by an embroidering girl gang of two.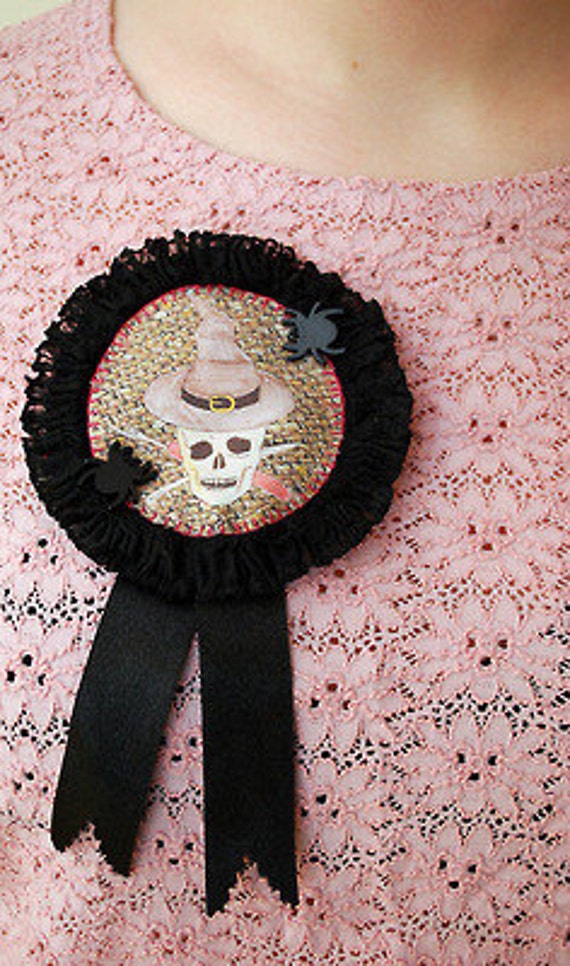 Is there one in particular you believe to be most powerful? If so, why is it?
People have really embraced "Thunder Thighs Are Go" as their own phrase to celebrate their bodies, and I'm moderately proud of that. I think that makes it quite powerful. Some of my embroideries on the subject of mental health, created in bitter and knowing irony, have been taken literally and reclaimed as a badge of honour, and I think either taken in this reading or in the spirit they were originally intended, they are powerful statements of defiance.
Describe some of the word play you use.

My work is always underpinned by the written word, whether that be by beautiful etymologies, dreadful puns, or linguistic philosophy (though it is a little heavy on the puns!)
Currently, how many different projects do you have going on?
When you created your first piece, what were the reactions like from other people?
The people to see my first piece of embroidery were my parents, and I think they were tickled by the playful wordplay and clumsy stitches! Considering how amateurish it is, it's received a surprising amount of attention on Flickr.
What are your hopes for your creations in the future?
This September I will be starting the tutor training course at the Royal School of Needlework in Hampton Court Palace, to learn, practice and teach hand embroidery to the highest possible level. In addition to and because of this, I would hope to exhibit my work more widely, and expand my practice of participatory performance embroidery workshops, social events where I use embroidery as a tool to open up conversation on a theme in a fun and performative setting.
By the way, where did the name Poesie Grenadine come from?
Poesie Grenadine is a French phrase which translates roughly (and very broken-ly) as "purple prose". As much of my earliest embroidery arose out of re-workings of terrible teenage love poetry, it seemed most apt. I'm also somewhat of a florid, pinkish person, so it's suitable in that way too!